Fire station for 4 cars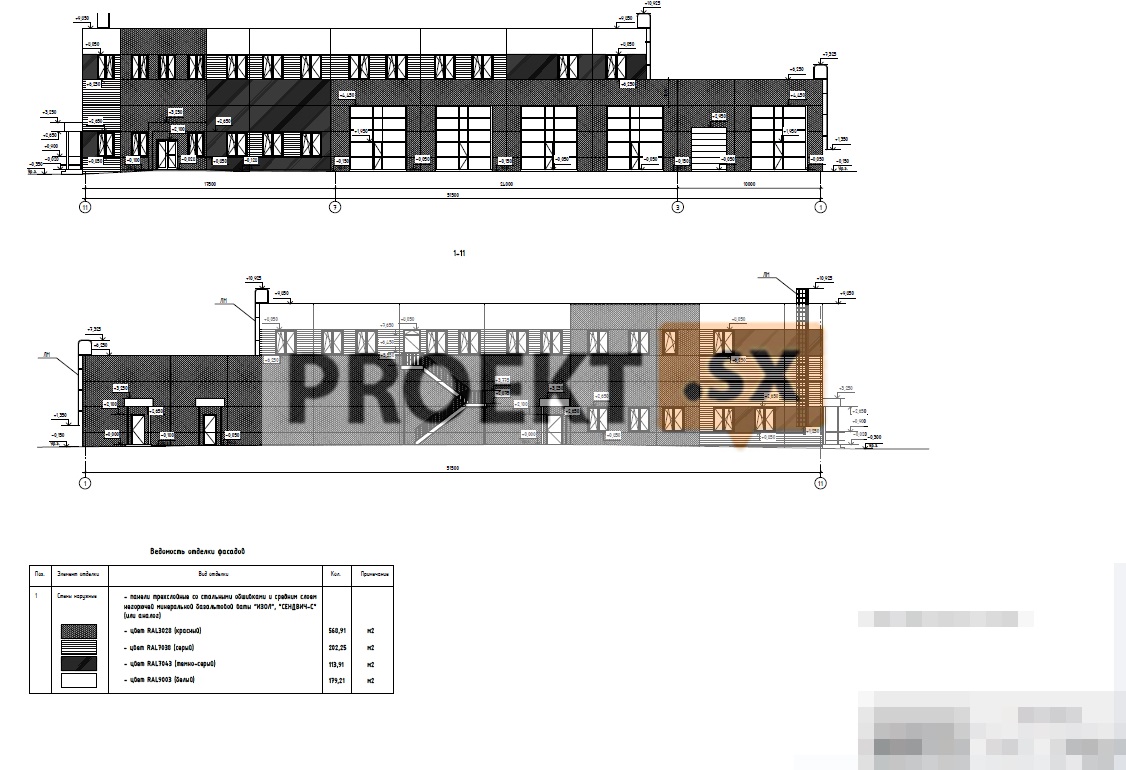 Index: 02082101
Data Sheet:
Project documentation including estimates and results of engineering surveys
File Format:
*.pdf (layers)
Expert opinion:
a positive
Prefabricated fire station building for 4 vehicles
Project documentation, including estimates, and the results of engineering surveys for the construction of a fire station for 4 vehicles
Technical and economic characteristics of the capital construction object
Building area, m2: 897,75
Floors: 1 - 2
Number of floors 2
Building volume, including: below el. 0.00:-
above el. 0,000, m3: 7589,06
Total area, m2: 1492,65
Usable area: 1460,20
Estimated area: 1265,11
Number of employees in the maximum shift, people / day: 22
Payroll, people: 58
Opening hours: 365/XNUMX, XNUMX days a year
General information.
The building of the fire station is a prefabricated structure with a load-bearing metal frame. External enclosing walls - three-layer factory-made panels with a thickness of 150 mm, 170 mm. Prefabricated sandwich panels are attached directly to the metal frame of the building. The panels are lightweight and compact, which makes their delivery to the site easier and more economical. It is possible to dismantle the sandwich element by element, if necessary, transport it, as well as re-install without repair. In addition, any part of the prefabricated sandwich damaged during operation (for example, a cladding fragment) can be replaced without replacing the entire structure. Thus, the fire station building is a prefabricated (and quickly dismantled) prefabricated building on a metal frame using prefabricated cladding elements, with minimal use of wet processes in construction. Technical zone: garage premises - parking lots, etc. are separated from the administrative and amenity zone by a brick technological partition, which serves to divide into functional zones. The composition of the working personnel of the fire station includes: the chief of the fire department; deputy head of the fire department; fire prevention instructor; inspector for the main activity; head of the guard on duty, working in shifts (24 hours); only 4 people; senior dispatcher; dispatcher working in shifts (24h); only 4 people; firefighters working in shifts (24 hours); per shift - 9 people, total 28 people; drivers working in shifts (24 hours); per shift - 5 people; working 8-hour working day, per shift - 2 people; in total - 16 people; master GDZS; In total, 22 people work per shift, of which 12 people work 24 hours. The total number of employees is 58 people. The height of the garage premises is - 5,32 m from floor to ceiling; administrative part of the first floors - 5,27 m from floor to ceiling, clean from floor to floor - 5,55 m. Height of the second floor - 3,25m from the floor up to the ceiling. The garage (technical area) includes: a parking garage, a car wash post, a maintenance and technical rooms (electric panel room, ventilation chamber), technical room car washes. The administrative and amenity part on the ground floor includes: a control room with a rest room, a security post, a medical office, storerooms, bathrooms, a room for washing and drying a combat clothes, post GDZS, storage room for combat clothing, workshop, sleeve post, descent zone pillar and technical premises (water supply entry point, ITP). On the second floor there are: an office of the head of the fire service, an office of the deputy the head of the unit, the office of the inspector for the main activity, the office of road safety movement, fire prevention instructor's office, guardroom, rest room duty guard, room for warming up and eating, bathrooms, wardrobe, shower room and pre-shower room, warehouse clothing, pantry, classroom, inventory and pole descent cabins.
Categories

projects on the site