FOC project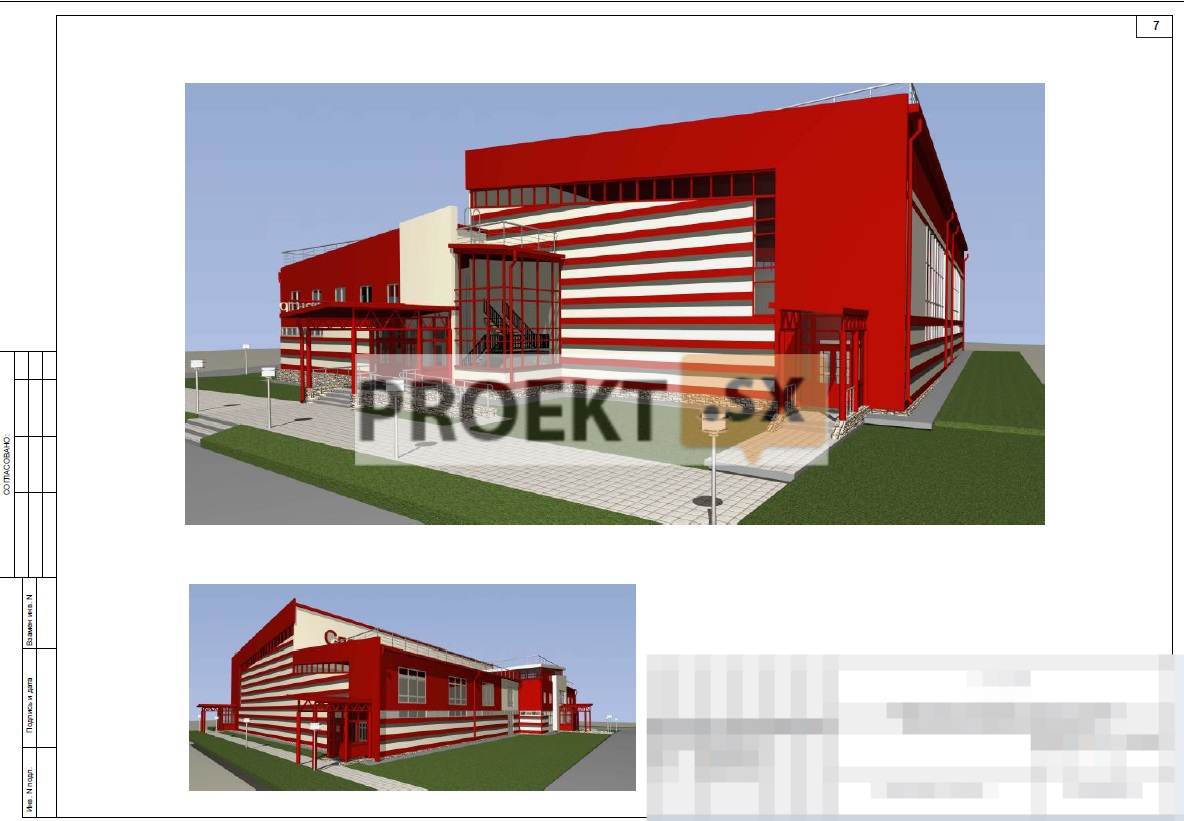 Index: 22011901
Data Sheet:
Project documentation including estimates and results of engineering surveys
Project documentation including estimates for the construction of a sports and recreation complex
Technical and economic indicators
Building area, m2: 1767,73
Total area, m2: 2413,5
Including the area of ​​those. floors, m2: 183,1
Construction volume, m3: 17794,5
General information.
The building of the universal sports and recreation complex is 1 - 3 storey, divided into three blocks. Two blocks are rectangular in plan with different dimensions in plan and in height, where the sports halls are located. The third block is two-storied (administrative and leisure purpose). The building has two main entrances. From the southeast side, an entrance for athletes is organized. On the northeast side is the entrance for visitors with the possibility of access for people with limited mobility.
Facade finishing.
In the exterior decoration of the facades, MetalProfile sandwich panels of white (RAL 9010), red (RAL 3020) and three-color MultiTON panels are used. The windows are white plastic double-glazed windows, stained-glass windows, doors - red according to RAL 3020 Base - decorative facing stone.
Finishing facilities.
For the interior walls of the sports halls, non-combustible Uniprok-NG boards, ceramic tiles in the showers and bathrooms, grouting and painting with water-based paint on drywall in the administration premises, locker rooms, conference hall, and lobby were used. Windows - plastic with double-glazed windows. Floors - parquet, plank planed under varnish, linoleum, ceramic tiles, in sports halls - Conipur HG sports flooring, floors on escape routes (corridors, stairwells) and in the conference hall - porcelain stoneware. Ceiling - Armstrong, GVL, sandwich panels.
Daylight.
Natural lighting is made in accordance with SP 52.13330.2011 "Natural and artificial lighting", SanPiN 2.2.1 / 2.1.1.1278-03 "Hygienic requirements for natural, artificial and combined lighting of residential and public buildings", SP 31-112-2004 " Physical culture and sports halls. All the main premises of the complex have natural light. The area of ​​window openings in sports halls is 20% of the floor area. The orientation of the windows of the universal sports hall is provided to the east.
Categories

projects on the site