27-apartment building LSTK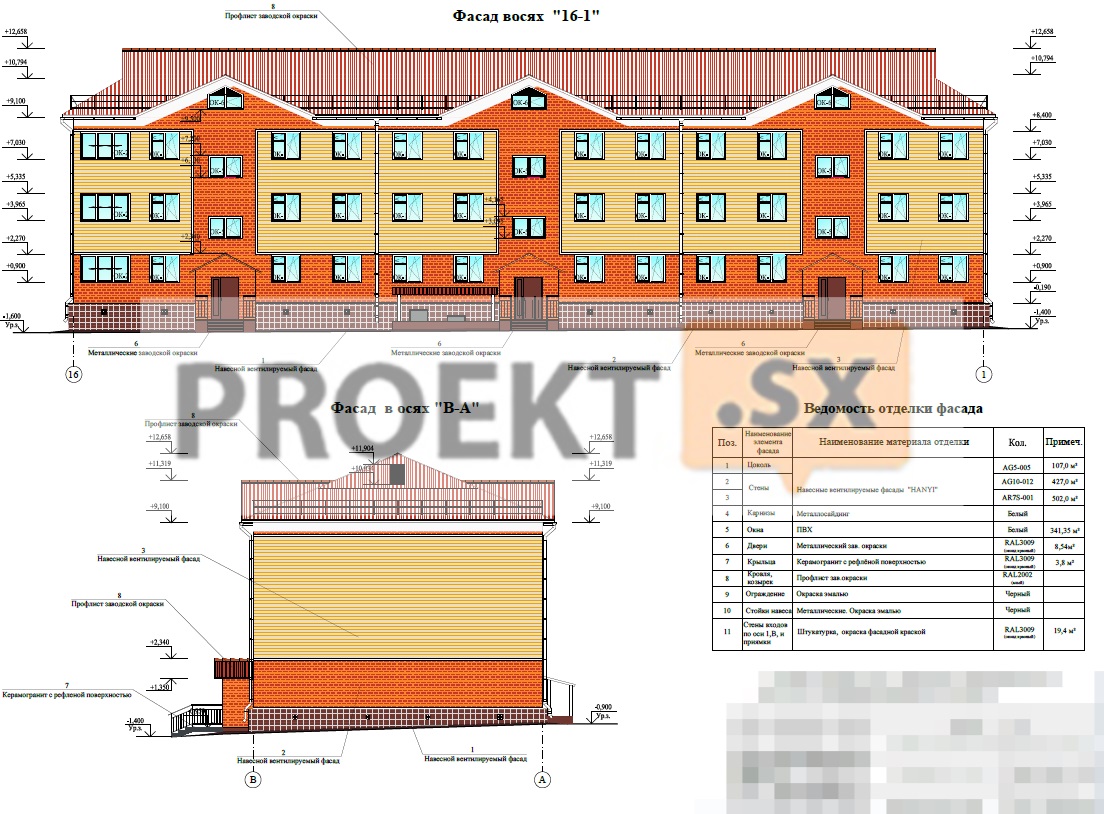 Index: 24062200
Data Sheet:
Working documentation including estimates
File Format:
*.dwg, *.doc, *.pdf
Expert opinion:
a positive
Working documentation including estimates for the construction of a 27-apartment low-rise residential building in light-weight construction structures
Technical and economic indicators.
Floors of the building: 3
Built-up area of ​​the building, m2: 724,00
Total building area, m2: 1882,10
The area of ​​those underground, m2: 646,00
Total living area of ​​apartments, m2: 839,04
Total area of ​​apartments, m2: 1482,24
Number of apartments, pcs: 27
Tue. h. one-room apartments, pcs: 3
including two-room apartments, pcs: 21
Tue. h. three-room apartments, pcs: 3
Construction volume, m3: 7334,84
Tue hours below el. 0,000, m3: 1363,60
Total estimated cost (in basic prices of 2001), thousand rubles: 16727,31
Duration of construction, months: 8
Constructive decisions.
The building was designed according to the LSTK technology, from frame-panel structures, with finishing. The building of a 27-apartment residential building is rectangular in plan, three-story with a technical underground, dimensions in the axes 45,26x14,40 m. The height of the premises is 2,7 floor ceilings. The elevation of the technical subfloor is minus 2,000 m, in the premises of the heating unit and the switchboard floor it is taken at around minus 2,570 m. The level of responsibility is normal; Degree of fire resistance - III; Constructive fire hazard class - C2; Functional fire hazard class - F1.3 (residential floors) premises in technical underground class - F 5.1; For a relative mark of 0,000, the level of the top of the base slab of the 1st floor is taken to correspond to the absolute mark on the ground of 594,100. Finishing and building materials must have hygienic certificates of compliance with current sanitary standards. A residential building with 27 apartments is designed from modular structures with finishing. Each floor consists of 3 modular blocks-sections 2980x5980mm in size. Height from floor to ceiling 2700 mm. Building elements are supplied in blocks, cassettes and elements. The load-bearing elements of the building are metal frames of modular blocks - sections, which consist of metal frames of roof and base panels, fixed at the corners with reinforced racks from channel No. 10 according to GOST8240-97. Racks are attached to the frames with M 16 bolts (24 pieces) and additionally by welding. The system of base beams is adopted as the supporting structure of the module-sections. The construction of the walls is frame-sheathing. The stability of the building as a whole is ensured by the rigidity of individual modules assembled into a single rigid block. Base beam system - hot-rolled I-beams No. 16 with parallel flange edges according to STO ASChM 20-93 from steel C345 according to GOST 27772-88 *. All modular block-sections are installed with a mounting gap of 40mm for subsequent sealing of the thermal sealing of the joints. The supporting element of the mobile block-section is a steel frame. The bases of the floors (base panel of the block-section) are made of a steel frame (curved channel 180x50x4 according to GOST8278-83* along the perimeter and bent channel 80x40x3 for fixing the log inside the block) filled with heat-insulating mats MP 75 according to TU5769-019-00287220-2006 in polyethylene film ). Floor of the basis from plywood of thicknesses. 18mm ber./pine FC A/AB; E1 according to GOST 3916-89; the bottom of the base from larch boards, thicknesses. 32mm according to GOST8486-86, subjected to bio-fire retardant treatment. Base panels of the 1st floor 250mm thick; base panels of the 2nd and 3rd floors -190mm. Floor ceilings (roofing panel of the module-section) are made of bent channel 180x50x4 in accordance with GOST 8278-83* along the perimeter and bent channel 80x40x3 for fixing wooden beams to them. The ceiling and the top of the roof panel are made of plywood, thicknesses 12mm ber./pine FC A/AB; E1 according to GOST 3916-89. Roofing panel between floors, thicknesses 164mm, roof panel above XNUMXrd floor, th. 224 mm. The roof panel is attached to the base panel in the corners with reinforced posts made of channel No. 10 with M16 bolts, followed by welding to the roof and base frames. The modular block section is formed by wall panels with a wooden frame filled with MP75 heat-insulating mats according to TU 5769-019-00287220-2006 with a windproof layer ("Izospan A" according to TU 5774003-18603494-2004) and a vapor barrier layer ("Izospan V" according to TU 5774003 -18603494-2004), which is installed from the inside. The frame of the wall panel is made of boards in accordance with GOST 8486-86, subjected to deep bio-fire retardant impregnation. On the inside, the wall panels are sheathed with plywood 12mm thick Ber/Pine FK A/AB; E1 according to GOST 3916-89. From the outside, wall panels are sheathed with profiled sheet C10-900-0,7 according to GOST 24045-2016 with a polymer coating. The corrugated sheet is fastened to the wooden frame with self-tapping screws 3,5x41 according to TUBU 400024166.009-2008. Penofol with one-sided foiling is installed under the profiled sheet. Wall panels are fastened with a profiled sheet to the base frames (module base panels) and roofs (module roof panels) with self-tapping screws 4,8x35 according to BShch 7504K in each wave with a step of 100 mm. The thickness of the wall panels is 122 mm. The joints of the wall panels between themselves and the roof panel are sealed with a non-woven synthetic fabric "Darnit" according to TU 8397-001-05204776-01 and minvatoy according to TU 5769-019-002872220-2006, sealed with Teteron mastic according to TU 5770-71-00284718-93 and overlapped flashings. The joints of the wall panels with the base panel are sealed with a fabric cloth in a polyethylene film, sealed with mastic and covered with a plinth. Partitions - type KPAIG. Flights of stairs - metal kossoura from a bent channel 180x50x4 in accordance with GOST8278-83 *. Landings - metal stringers made of bent channel 180x50x4 according to GOST8278-83*. Step frames - from the corner 40x40x4 in accordance with GOST 8509-89. Steps and platforms - from a ceramic tile. Roof - truss gable, attic, fully prefabricated from metal structures supplied by the manufacturer with an external organized drain through galvanized steel pipes. Rafter beams from a rolled channel No. 12 GOST8240-97, runs from a bent channel 100x50x3. The construction material is steel grade VstZsp5 (S255). Roof coated with waterproof roofing - profiled sheet H37-975-0,7 with a polymer coating in accordance with GOST 24045-2016. The roof is provided with a snow-retaining device RKE8TYU EIRO, consisting of 2 oval pipes 45x25 mm with brackets 150 mm high and 420 mm wide with a step of 1,0 m, bolted to the roof structure. Roofing with a height of 1200mm is also provided. To prevent icing of the roof drainage system, lay a heating cable along the roof perimeter. The elements of the eaves, collars in the places of passages of ventilation shafts and pipes of sewer risers are made of galvanized roofing steel with a polymer coating of thickness. 0,5 mm, the gaps are sealed with a hardening sealant. Windows - individual PVC profiles in accordance with GOST 30674-99 with tilt-and-turn adjustable opening of the shutters and a window leaf into the room and with a 2-chamber double-glazed window with a selective heat-reflecting coating. Reduced heat transfer resistance K=0,68m2-°C/W.
Categories

projects on the site