School of architects Polgar, Smyshlyaev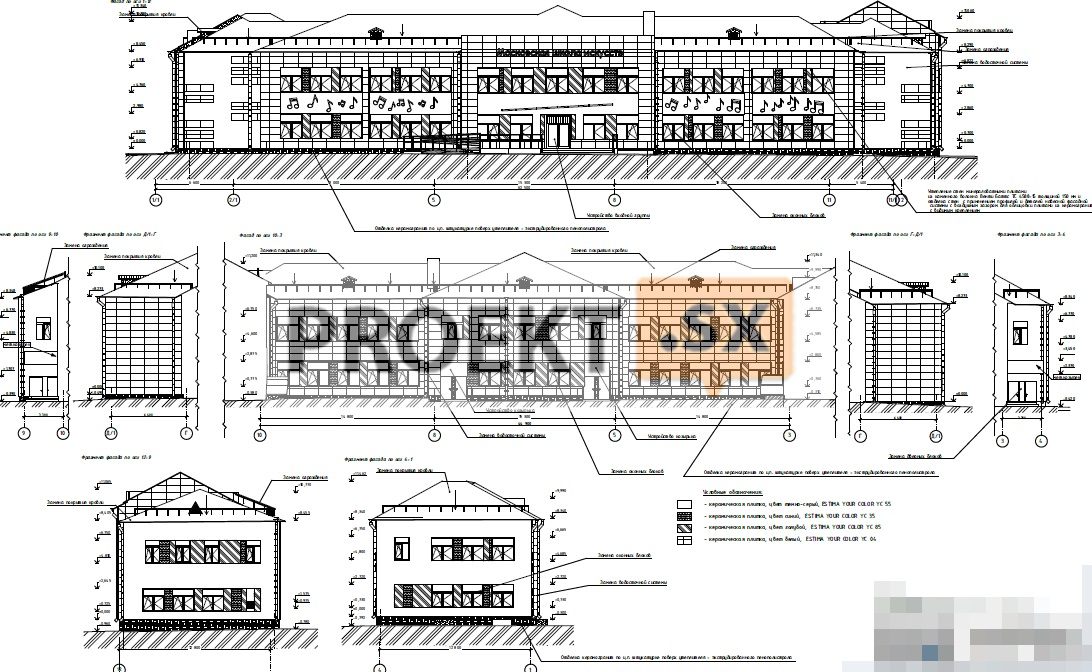 Index: 28072200
Data Sheet:
Design, working documentation including estimates
File Format:
*.pdf, *.xlsx
Expert opinion:
a positive
Project composition:
Working documentation including estimates for a comprehensive overhaul of the school building architects Polgar, Smyshlyaev, 1935
Technical and economic indicators
Building area, m2: 1631
Construction volume, including: m3: 9273,04
above-ground part, m3: 8070
underground part, m3: 1203,04
Floors, in addition, floor: 2
Basement floor, floor: 1
Total building area, m2: 2738,1
Usable area m2: 2487,32
Estimated area m2: 1909,93
General information.
The school building was erected according to the standard project of arch. Polgara, Smyshlyaeva. Year of construction - 1937, the main building was built in axes 1-12 / A-E; two wings in axes 1-4 / D-M; 9-12/D-M built - 1953. The existing building has a complex shape in plan, with dimensions in axes 63,90 x 42,20 m. There is a central building of an earlier construction in axes 1-12/A-E. The height of the building from the floor mark of the first floor (elevation +0,000) is variable, namely: - the mark in the highest part of the roof parapet is -12,20 m; - the height of the basement part is variable from -0,15 to -0,99 m. The one-time number of students is 269 people. The staff number is 110 people. The one-time number of employees in the building is 57 people. The walls are brick, the floors are reinforced concrete, the roof of the building is pitched hip with a "cold" unheated and unexploited attic space, dormer windows. Floor heights: basement - 2,54 ÷ 2,37 m, 1st floor - 3,27 ÷ 3,50 m; 2nd floor - 3,55 ... 4,60m; in the attic, internal walls 0,2 ... 0,3 m high. The total area of ​​the premises of the building (according to the BTI technical passport) is 2738,1 m2.
Categories

projects on the site