Project of a production and warehouse complex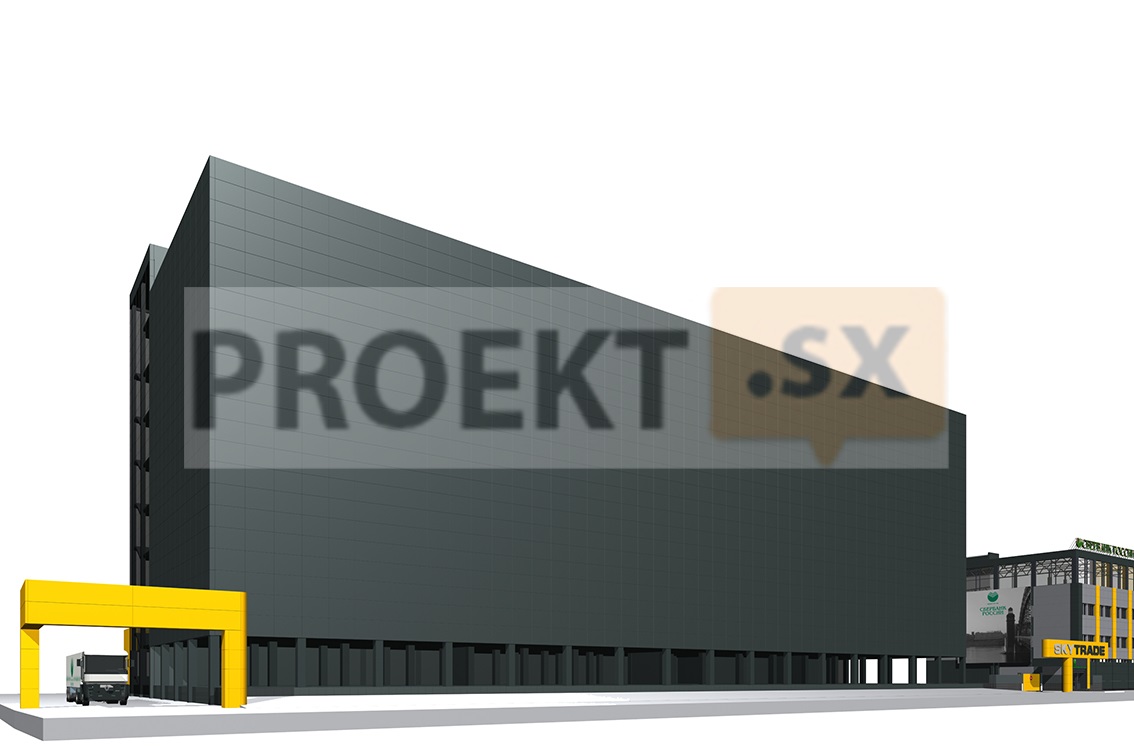 Index: 89.180.286
Data Sheet:
Project documentation without estimates and results of engineering surveys
Sections:
AR, VK, GP, O&V, Tech. regulations, TX, ES
File Format:
editable formats
The main technical and economic indicators
The area of ​​the projected territory: 33578 sq.m.
Building area, including: 10828 sq.m
1st stage of construction: 6458 sq.m
2nd stage of construction: 4370 sq.m.
The area of ​​the projected asphalt-concrete pavement, including: 14925 sq.m.
parking: 3 295 sq.m.
Area of ​​projected sidewalks: 670 sq.m.
Area of ​​projected landscaping (lawn): 7155 sq.m.
Space planning solution
The building of building No. 3 is a single block measuring 96x36,6 m with 9 floors in axes A-B and 8 floors in axes B-Zh, where additional production facilities are located to expand the range of compressor units. Building structures include a box-section foundation slab, columns, external and internal longitudinal and transverse walls, elevator shaft walls, ceilings and roofs. Structurally, the building is a single frame of monolithic reinforced concrete structures.
The main block of the building No. 3
The main block of building No. 3 is an eight-nine-storey building with a plan size of 36,6 x 96,000 m and a height of 39,400 m. all horizontal loads are taken by diaphragms and stiffeners. The spatial rigidity of the building is ensured by the joint work of vertical load-bearing structures, united by hard disks of interfloor floors. The enclosing structures of the building are solid brick masonry on cement-sand mortar, 250 mm thick, insulated with mineral wool and a decorative ventilated facade made of composite panels on a metal mount.
Exterior finishing of facades
The facades of the building are designed in a modern style. The exterior finish of both blocks of the building is made of decorative finishing panels with a polymer coating of the outer metal sheets. The color of the panels according to the RAL catalog.
Interior finish
In the production block, internal designed partitions and ceilings: brick 120 and 250 mm thick, plasterboard on a metal frame filled with Rockwool mineral wool, suspended ceilings by Tigi-KNAUF in administrative premises. Door blocks - metal-plastic. Window blocks - metal-plastic with double-glazed windows. Types of floors in the building are accepted depending on the purpose of the premises: in production and storage rooms and corridors, the Master Top floor is poured over a polished concrete layer b = 50 mm over the existing base and ceiling; locker rooms - linoleum; in bathrooms and MOS - ceramic tiles with waterproofing. Wall painting with general-purpose enamels, in wet rooms - ceramic tiles. The roof is rolled, flat with internal gutters. Finish the plinth on the plaster mesh with black porcelain stoneware 600x600 in size. Building class - II. Degree of fire resistance - II. Fire hazard category - B.
Purpose and description of production
Production building No. 3 of the Production and warehouse base is used for the assembly of air compressors and compressor stations for domestic and professional use of their components and components manufactured by a group of manufacturers and offered on the market under a single brand. Production building No. 3 of the production and warehouse base is intended for the production of devices and systems of pneumatic automation: oil-free mobile piston compressor type FX 951, stationary screw compressor TK-15/30, tostationary oil-free compressor in a block design in a noise-damped casing according to the SF type, the same, with built-in SF dryer, Screw compressor NVE-2,2/0,7, Spare parts for pneumatic automation systems. The production program provides for the release of 2000 units. finished products per year. Compressors are designed to produce compressed air for technical needs in various sectors of economic activity where compressed air is used. Structurally, the compressors consist of a base (mobile or stationary), pipelines, cylinders, pistons, electric motors, control panels. In addition, the compressors include components: flanges, seals, fasteners and other parts. General assembly and acceptance tests are carried out on the slipway. On the slipway, the performance of electrical systems and the operation of the compressor in various modes are checked. The products accepted by the Quality Control Department are packed in polyethylene film, wooden boards and sent to the consumer. Parts and assemblies are delivered in small containers weighing up to 2 tons and delivered to the assembly areas on freight elevators using manual hydraulic transport carts by auxiliary workers. Finished products packed in individual containers, before being sent to storage warehouses or a distribution network, are located in temporary storage rooms in the immediate vicinity of the assembly production facilities. The total building area of ​​production building No. 3 is 3 m955. Building No. 2 is a separate building, inside which the following main technological zones are located: Production facilities for assembly, packaging and temporary storage of products are located on floors from the 2nd to the 8th with a total area of ​​18 m476; loading / unloading area at el. 0,00 with an area of ​​317,3 m2; amenity rooms and locker rooms for staff are located on the 2nd, 3rd and 4th floors with a total area of ​​271,8 m2. The project also provides for utility rooms, including workshops and technical rooms for storing tools, a room for a water-folding unit and ventilation chambers, and electrical panels. The composition and areas of zones and premises of the warehouse building are provided in accordance with the design capacity of the enterprise. The layout is made in accordance with the requirements of the current sanitary and fire regulations. Building No. 3 is equipped with all necessary engineering systems: heating and ventilation systems, water supply and sewerage systems, power supply systems for lighting and power needs, as well as automatic fire alarms and fire extinguishing systems.
Categories

projects on the site