Project of a veterinary clinic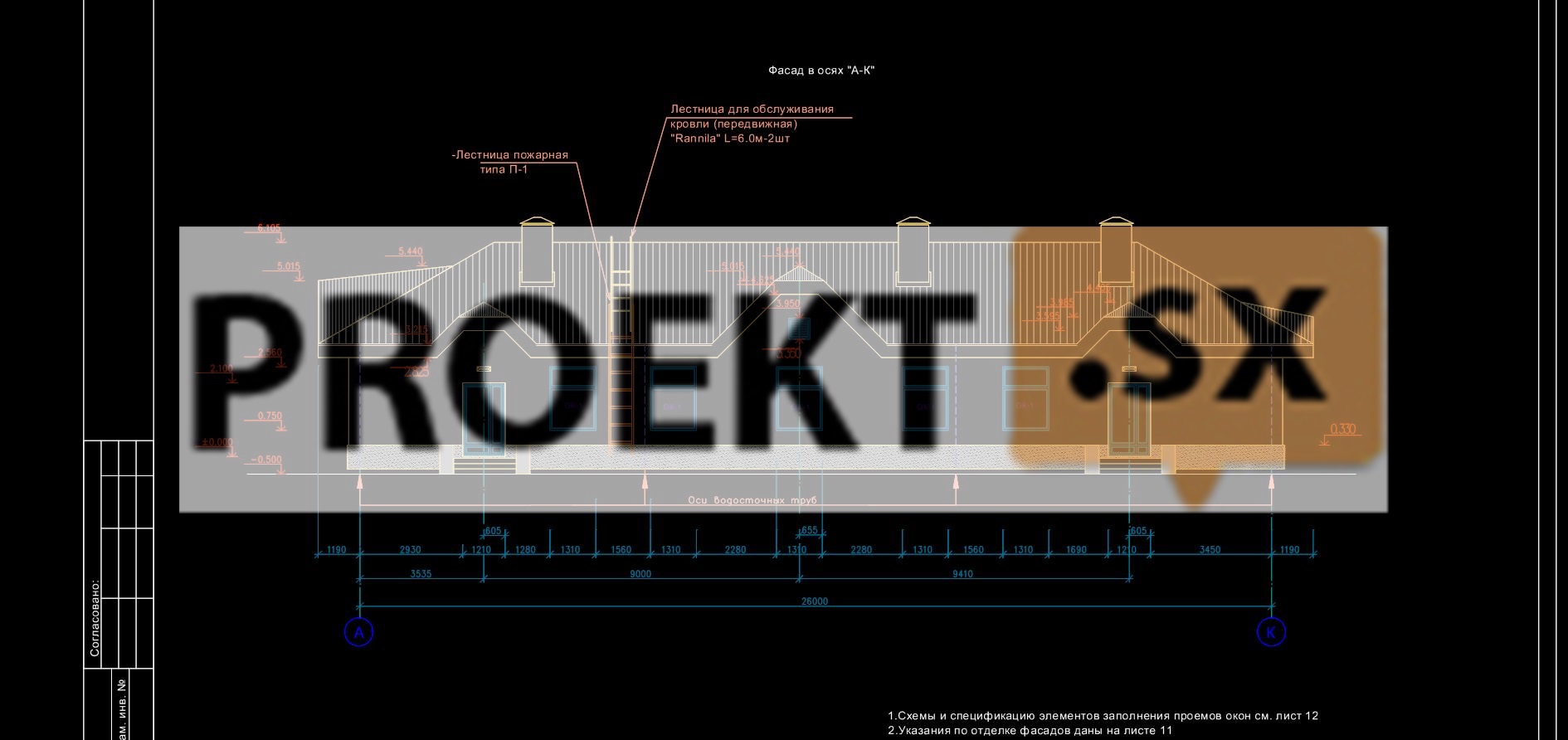 Index: 78.122.219
Data Sheet:
Design, working documentation including estimates and results of engineering surveys
File Format:
editable formats
Expert opinion:
a positive
Technical, economic and cost indicators:
Plot area, ha: 1,0492
Building area, m2: 409,54
Total building area, m2: 578,73
Construction volume, m3: 2457,5
Estimated cost at the 2001 base price level (without VAT)
Total: thousand rubles: 6794,88
Construction and installation works thousand rubles: 4650,72
Equipment, thousand rubles: 910,02
Other expenses, thousand rubles: 1234,14
including:
PIR, thousand rubles: 792,37
refundable amounts thous.rub. 11,91
Estimated cost at current price level November 2009 (VAT included)
Total: thousand rubles: 36138,73
Construction and installation works thousand rubles: 27730,55
Equipment, thousand rubles: 3436,24
Other expenses, thousand rubles: 4971,94
including:
PIR, thousand rubles: 2194,22
VAT, thousand rubles: 5438,25
refundable amounts, thousand rubles: 60,20
Architectural and space-planning solutions:
The site provides for the construction of a veterinary hospital - a detached one-story building rectangular in plan, with dimensions in the axes of 13,500 x 26,000 m and a height of 6,105 to the top of the ridge, the building without a basement, with an attic and is intended for outpatient treatment of animals, preventive veterinary measures, processing, vaccination, diagnostic studies, etc. for 20 visits per day. On the ground floor of the building of the veterinary hospital, the following rooms are provided: a hall, a pharmacy kiosk, an LUM diagnostics room, surgery, an outpatient reception room, a washing sterilization room, an examination room, a waiting room, a vaccination room, a veterinary doctor's office, an epizootologist's office, an animal euthanasia room, rooms biowaste and cooling chamber, manager's office, staff room, bathrooms for staff and visitors, storage rooms for dirty and clean linen, storage rooms for disinfectants, electrical switchboard, water metering unit, storage rooms for fluorescent lamps. Separate groups of entrances were designed for visitors with sick and healthy animals, as well as a separate exit for removing biowaste. Ventilation chambers are provided in the attic. Exterior decoration of the building of the veterinary clinic: plinth - facing with wall stone "Melikonpolar"; walls - painting with waterproof paints on a plastered surface. Roof - gable, made of galvanized steel with polymer coating, with external gutters. The working draft provides for the accessibility of premises for visitors to people with limited mobility, including those in wheelchairs.
Structural and space-planning solutions:
The structural scheme of a one-story building is longitudinal - wall. External walls - load-bearing, consisting of ceramic bricks KORPu 1Nf / 150 / 1,4 / 35 (GOST 530-2007) 380 mm thick on a mortar M100, a layer of insulation 130 mm thick and a layer of plaster on a grid thick 30 mm. Socle - with facing with a stone "Melikonpolar" 120 mm thick. Internal walls - from a ceramic brick 380 mm thick. Overlapping - a continuous slab of monolithic reinforced concrete 180 mm thick (concrete B25). Lintels - prefabricated reinforced concrete. The covering is a steel hip structure, consisting of layered rafters with a rigid attachment to the bottom of the floor slab, with a rigid attachment to the embedded parts of reinforced concrete belts in the middle part of the slope, located along the top of the inner walls, with a hinged attachment to the ridge beam. Rafters - from rolling I-beams 20B1-26B1 (GOST 26020-83), support posts - from closed bent-welded profiles. Steel C245. Filly - from a bar 50 x 150 mm. Lathing and counter lathing - made of steel thin-walled bent galvanized profile. The spatial rigidity and stability of the building is ensured by the joint work of load-bearing walls with a hard disk of a monolithic floor. Building responsibility level - II (GOST 27751-88). Calculations of building structures were performed in a finite element model using a certified software package "SCAD" v.11.1. For the mark 0,000, the mark of the finished floor is taken, corresponding to the absolute mark + 31,100 m. The foundation was developed on the basis of engineering and geological surveys. The foundation is a shallow ribbed slab on a natural base. The foundation slab is made of monolithic reinforced concrete with a thickness of 250 mm. The section of the ribs along the middle axes is 1,5 x 0,5 (h) m, along the extreme axes - 0,82-1,32 x 0,5 (h). Concrete B25, W6, F100, working reinforcement A-III, A-I. The absolute mark of the bottom of the ribs of the slab is + 30,490 m. The base of the foundation slab - silty plastic sandy loam with e = 0,671, E = 80 kgf/cm2, φII = 24°, with a design resistance of 0,44 kgf/m2. The pressure under the base of the foundation is 1,56 kgf / m2. Preparation under the foundation - from a layer of monolithic concrete B7,5 with a thickness of 70 mm over a layer of crushed stone with a thickness of 100 mm. To prevent freezing of the foundation and soil at the base of the foundation, the design documentation provides for the insulation of the end of the foundation and the blind area with a layer of foam plastic 100 mm thick. The maximum position of the groundwater level is predicted at a depth of 0,20 m at an absolute mark of + 30,30 m. Groundwater is slightly aggressive in terms of the content of aggressive carbon dioxide, hydrogen index and bicarbonate alkalinity in relation to concrete of normal permeability. Protection of the building from groundwater and dampness: foundations made of W6 concrete above the groundwater level, treatment of concrete surfaces in contact with the ground with polymer bitumen. The expected average design settlement of foundations is 2,5 cm at a depth of compressible soil thickness of 8,17 m. The design documentation provides for construction monitoring. The fire-fighting water reservoir is designed from prefabricated reinforced concrete structures of the factory (3.900.10 series) and individual production with a bottom made of monolithic reinforced concrete. Concrete B25, W6, F100, working fittings A-III, BP-I. The bottom of the reservoir is taken at a depth of 2,2 m from the ground level.
Categories

projects on the site